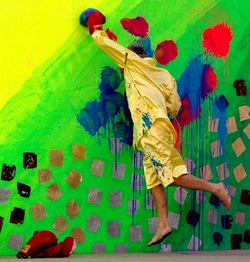 June 27, 2015
We had a pretty good turn out for the PBS Documentary, with discussion about women's role in Japanese culture, and why Ushio lives in America and struggles as an artist when his work was so popular in Japan.
Cutie and the Boxer,
by filmmaker, Zachary Heinzerling.

The Academy Award®-nominated Cutie and the Boxer is a moving account of the chaotic and unconventional 40-year love affair and creative partnership between action painter Ushio Shinohara and his wife, Noriko, also an artist. Ushio, who punches canvases with paint-laden gloves, is famous in Japan and in Manhattan's art circles, yet wider recognition has eluded him. Noriko, 21 years his junior, put her artistic ambitions on hold to be a wife and mother — and an assistant to her demanding husband. Now, Noriko's acclaimed "Cutie" series of drawings, depicting the relationship between the title character and a volatile figure named Bullie, is turning their world upside down. Winner, Directing Award: U.S. Documentary, 2013 Sundance Film Festival.