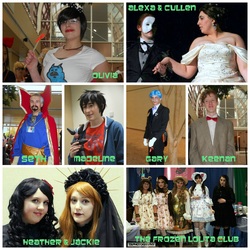 September is SenshiCon month for CHILL! If you missed ADN's coverage, check it out
HERE
,
HERE
,
HERE
, and
HERE
.
What is SenshiCon? It's an anime convention where people of all ages celebrate their love of Japanese, American, and British pop culture. Our CHILL p
atrons spent an adventure filled weekend at SenshiCon in Anchorage on September 26 & 27. Costumes are the main attraction, along with workshops, dances, demonstrations, shopping, and more!
In preparation for this fall's big event, and to boost summer attendance, CHILL conducted a summer long contest for participants. Seth D won the grand prize, a weekend pass to SenshiCon. He said he had a great time at his first anime convention. Keenan M, and Olivia S also dressed up and enjoyed their weekend.
Our patrons are quite talented too! Madeline K, voted best Doctor Who costume at our August CHILL, also won first place in her division in SenshiCon's cosplay contest. She entered as Hiro from the Pixar movie, Big Hero 6, with a hand painted shirt and custom crafted magnet man. Heather D, Jackie S, and other members of the Frozen Lolita Club ran a successful booth in the vendor hall, and held a fashion show. Gary D taught two workshops, and volunteered in the admissions department.
The Palmer Public Library, and CHILL would like to extend our thanks to the Friends of the Palmer Library for providing us with prizes for our contest, including the grand prize SenshiCon weekend pass.
For more information about SenshiCon, visit www.senshicon.com